Written by GTPlanet | posted in GTPlanet News Feed | 0 Comments
– Mercedes-Benz Actros as it appears in Euro Truck Simulator 2, September 20th, 2015, courtesy of spinner.
Summer no longer burdens me, for I am free to enjoy the crisp, brisk winds that usher in the final months of the year; autumn is here and as every year that has preceded, I couldn't be happier. With September behind us things are beginning to calm down and return to a near-normal state, however, that wasn't before the month ended on an unexpected high note: the Course Maker for Gran Tursimo 6 is now a thing you can use to your heart's content!
Now comes the obvious question of "Was it worth the wait?", and while I haven't used it just yet there seems to be some very interesting recreations already out in the wild. Having glossed over what the improved feature is capable of, I'm looking forward to the recreations of Gran Turismo's legacy tracks, the likes of Seattle Circuit, Grindelwald, Tahiti Road — all of the tracks we look back on and wish they'd never been left behind.
There's plenty to get through, so who's ready for the Spotlight?
GTPlanet Picture of the Week
This week's featured image comes to us courtesy of ac1 and features two GT300 class racing machines in the Subaru BRZ and Mazda RX-7 battling for position.
If you like what you're seeing and have a suggestion for next week's featured image, start a conversation with me, entitle it "GTPlanet Picture of the Week" and fill it to your heart's content with suggestions and they'll be featured in upcoming Community Spotlight articles. NOTE: You cannot elect your own work.
GTPlanet Gallery of the Week – Weekly Art
– Let the sparks do the talking, April 4th, 2015, courtesy of FutureJustin.
Once a month, instead of highlighting a single gallery and placing the spotlight on one individual, the spotlight will be placed on multiple people at once showcasing their work in a gallery open to everyone, thus allowing for even richer discussion and participation.
This week's featured gallery is a community effort all in the vein of weekly automotive art.
"This thread is a filtered, "one stop shop" of the best pictures we have created using the GT6 Photo Mode. Here, YOU will post your best photo but only once a week. It doesn't matter if you edited it or not. The aim of this tread is to keep it simple and have your best photos showcased in an uncluttered space. A visiting guest will not be bothered by bad, better or good photos…only the best ones out there. This is a place where you can stop by and revisit great photos from members of our community, get inspiration for new ideas and see what is possible."
You can find the thread and all of the fantastic attractions here, put together by our own Metalsun, should you want to have a look around and contribute to the gallery yourself. There are a lot of great pieces in the thread so I would advise to not commit to a favorite until you've gone through the entire gallery if possible as I can almost guarantee you'll be replacing your former favorite with a new one; it's just that good of a gallery.
If you like what you're seeing and have a suggestion for next week's featured gallery, start a conversation with me, entitle it "GTPlanet Gallery of the Week" and fill it to your heart's content with suggestions and they'll be featured in upcoming Community Spotlight articles. NOTE: You cannot elect your own gallery.
GTPlanet Thread of the Week – No Friend Requests Necessary!
– A daring battle of Lexii, May 23rd, 2015, courtesy of G_Parilla.
The Course Maker for Gran Turismo 6 is finally here and unlike its implementation in GT5, a friend request isn't required to enjoy (and save) community-made creations, meaning you no longer have to deal with the hassle of having an inbox bustling with requests nor do you have to deal with a daily or even weekly rotation of accepting requests to accommodate those wishing to trial your work.
What is the answer then you ask? This thread, put together by Ameer67 details everything in seven easy steps and all, bar the final step, take place at the comfort of your laptop or computer.
What are you waiting for? Stop by the thread right here and get a move on, and don't forget to partner these steps with our Course Creators Registry to expand those horizons twofold!
Cabin Accessories Now Available for Euro Truck Simulator 2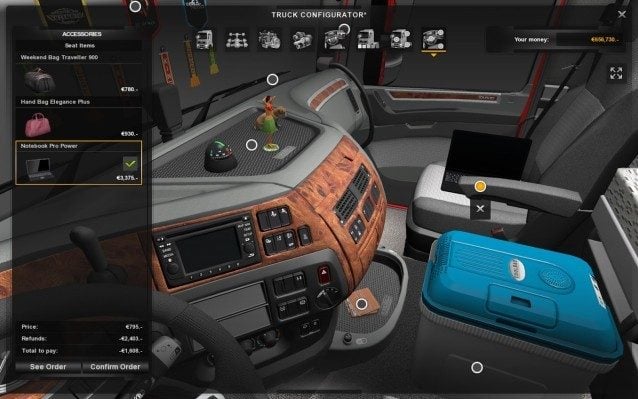 The trucks have returned, and who doesn't appreciate cabin trinkets? This is a departure from the usual paintjob and maps SCS typically provides, but what a welcome departure it is — I'm beginning to think there's simply no wrong that can possibly be done in ETS2.
The Cabin Accessories DLC is accompanied by Update 1.21 which updates the game to fully support the physics of the accessories themselves as well as including fixes to the game as a whole, and those are as follows:
Vehicles
Improved reflections in the cabin interior
Fixed spider paintjob from Halloween DLC missing for some variants of DAF Euro 6 cabin
Adjusted external interior for Actros 2009
Controls
Added automatically generated Range-Splitter layout for H-Shifter
Improved compatibility with G29 force-feedback
Sound
Improved sounds of tires and suspension
Improved sounds for manipulating blinker and brake sticks
Reduced volume of interior stick noises
Misc
Workaround for missing geometry on low-end Intel GPUs on OSX
Fixed possible use of incorrect files after switching between profiles with different set of mods
Corrected vegetation sometimes appearing at wrong places in the map
The hud mirror switching key (F2) now enumerates all combinations: both off, only far on, both on, only near on
Improved road collisions
The Cabin Accessories DLC is available now on Steam for $3.99 USD, but is on sale for 10% off at $3.59 until October 7th.
Aston Martin Expansion Now Available for Project CARS
The Aston Martin Expansion Pack for Project CARS is now available as a part of Slighty Mad Studios' "On Demand" efforts to continually keep the game feeling new with fresh monthly content, and this month's content delivers handsomely by introducing three new Aston Martin racing machines, as well as a brand-new location with six variations.
Keep an eye peeled for the full announcement of everything included in the expansion.
GTPlanet Vehicle of the Week
Drawing inspiration from the brand's successful racing history tradition in which Bugatti enjoyed great success during the 1920s and 1930s, the historical theme used for the design of the Bugatti VGT is the Type 57 Tank and its victories at Le Mans in 1937 and 1939. Making its appearance in the classic blue two-tone finish of the Type 57 G Tank.
"The Bugatti design team normally works only for the exclusive and very distinguished circle of the brand's customers. Now Bugatti Vision Gran Turismo has given us the opportunity, for the first time, to do something special for our fans as well," explained Achim Anscheidt, the head of Bugatti Design. "When the target group suddenly grows from 450 Veyron owners to several million fans, gamers and high performance aficionados, it is a very exciting matter. We had a lot of fun with this project."
Despite the concept being in a class where the cars have little to no relation with their road-going counterparts, two things remained important to the Bugatti design team: the virtual car should look unmistakably like a Bugatti and completely embody the brand values of 'Art, Form, Technique', and second, every part of the vehicle should have a real function.
Flying Finland Pack Released for DiRT Rally
Full details on everything included in the pack will be along shortly, but in the meantime here's a look at some of what's included.
12 new rally stages near Jämsä, Finland
All new 2000s vehicle class
2 new cars – Subaru Impreza 2001 and Ford Focus RS Rally 2001
Custom Championships – You can now tweak the number of events, stages and AI difficulty. This will mean that you can set up an event that suits the amount of time you have available and get rewarded accordingly.
Mouse Support! – Yep you asked for it so here it is. It's still a work in progress so please give us your feedback on how we can improve it.
Keep an eye peeled for full details!
GTPlanet Tune of the Week
Once every month we showcase the community's efforts to tame/tune the Car of the Week, and this month is no different, so let's get right down to business.
"In my neck of the woods, few Muscle Cars remained into the mid '80s. But the the Camaro and Firebird Trans Am were among the few. Then there was the rebirth of the Mustang, and from '86-91, the 5.0 GT was quite popular. The IROC Z28 was a very popular car and the rivalry was reborn. Sadly, the IROC in game is not quite what I think it should be, and no '80s Mustang is represented. Along comes the '90s and both were given make overs, and popularity here in the North East began to drop and Asian FF cars became more popular. That is, until the early 2000s. The Camaro SS was not getting as much attention as it once did but Ford gave us three desirable Mustangs, the GT, "Bullit" and the Cobra. All still show up even today when the weather is nice, although that will be changing soon.

So this month, we will take on the '88 IROC-Z Concept and the '00 Mustang SVT Cobra R, as suggested by our friend Motor City Hami. The IROC can be a difficult car, but enjoyable on the right track when tuned right. The SVT Cobra however, is in my opinion (and this from a Chevy guy) an underused and appreciated car in GT6. On the right track with a good setup, this thing will surprise and could be a sleeper, if that's even possible.

So grab one and get it tuned, let's see what you can do with these machines. As always, just give a track suggestion if necessary and tire choice. Or jump into one of the tunes posted or linked and give a review.

Now let's have some Modern Muscle Fun shall we?"
What you have here is a unique challenge for the month of October that just so happens to focus on American pony cars – later generations of the original two, as a matter of fact. How do you intend to tame these out and out muscle cars? If you're up for the challenge, and want the smell of burning rubber to loom about, then have a look at this month's thread and have at it!
The Last Lap
I was having a bit of difficulty getting this week's festivities off to the usual start, which funny enough is often the most difficult part of the entire piece because not only does it set the mood for the rest of the article as a whole, it typically determines whether the week's article is either 'must read immediately' or 'must read over the weekend'. Of course that point is slightly marred by the fact the Spotlight has been off schedule for the past few weeks through no fault of my own, the point being that I'm no stranger to the reality that some Spotlights are much better than others and I'm continually striving to make every Spotlight better than the one that preceded it.
October is here which means it is once again time for me to start my addiction to candy corn and watch hours of horror movies, most notably those of the 'Halloween' and 'Friday the 13th' variety as those are my favorite franchises in the horror genre, yes, even Jason Goes to Hell despite how absolutely horrible it is. I've never seen Halloween 3: Season of the Witch and I intend to keep it that way.
Again, keep an eye peeled for the DiRT Rally and Project CARS news in their own articles starting next week, alongside some great Assetto Corsa news regarding Dream Pack 2. Until then, you know the deal, keep racing!
Source:: GTPlanet Community Spotlight: A Rhyme That's Right on Time
Continue Reading